OUR MISSION
The Lark celebrates and nurtures art, music, and life.
The Lark is a non-profit with an intimate and beautiful performance and gathering space with superior acoustics, versatile lighting, and contemporary design grounded by historic elements. We will help you create a beautiful, well coordinated event in this intimate atmosphere and will make your special event truly special.
In addition to The Lark being a premier rental space in Downtown Hastings, we are also home to The Listening Room & Larkspur concert series. We host 10-12 concerts throughout the year featuring some of the country's most amazing performers and support local artists as well. Whether you like blues, bluegrass, jazz, folk or country, we have a variety of music.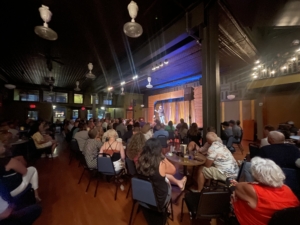 OUR PURPOSE
The Lark fosters the arts in Hastings and surrounding communities, providing artistic and cultural growth through observation, education, inspiration and participation.
History of the Listening Room
The Listening Room concert series was established in 1991 in Hastings, Nebraska. At the time, Hastings had a population of roughly 20,000 inhabitants, and its relatively small size, coupled with its isolated locale in the state, seldom attracted professional musicians of this kind to the area. Furthermore, local musicians lacked a proper scene to convene and play together. As founder and producer of The Listening Room, Robin Harrell set out to make world-class acoustic performances available and accessible to central Nebraskans, to support independent singer-songwriters, and to provide a venue for local musicians.
The series enjoyed modest beginnings in various borrowed spaces around Hastings, among them a conference room above a restaurant and even Robin's living room at times. Robin initially put on concerts by Nebraska musicians, but as word of the series spread and networks were set up with venues in larger cities such as Lincoln and Omaha, bigger names in the music industry started to make stops in Hastings en route to gigs at other clubs. By 1994 The Listening Room had comfortably settled into its most recent home at the local Knights of Pythias Hall. The retro space with its recessed clamshell stage, full bar, and club atmosphere allowed the series to settle in and become one of Hastings most successful and long-running arts and cultural efforts, beloved by audiences and players alike.
Since its inception, The Listening Room has fulfilled its mission solely through the volunteer efforts of Harrell and a small group of committed friends. The series gained nonprofit status in 1994, which led to the adoption of a Board of Directors, the addition of an assistant producer, Emily Dunbar, as well as the option of tax-deductible donations for its generous supporters. These donations helped to cover any expenses that ticket sales might not have fully met, including but not limited to room rental, publications and postage, advertising, and a sound engineer for each show.
The Listening Room has been very proactive in the endorsement of local cultural activities such as music, theater, and visual art events, as well as in the promotion of historic downtown Hastings. Most importantly, it has endeared itself to every musician who has had the opportunity to grace its stage. The Listening Room, as it were, is not an incidental name. As a producer, Robin has worked tirelessly to create an atmosphere that makes listening its highest priority. Countless past performers have listed the Listening Room which, ironically, has always been a series and not a physical space per se, among their favorite venues. The reason for this is that Listening Room audiences attend shows in a near reverent silence, a standard that Robin and company have fostered and upheld, and that seasoned performers in this day and age of disruptive cell phones, rowdy bars, and clamoring espresso machines consider a rare treasure and token of respect.
When the Knights of Pythias Hall announced its plans to close the building due to disrepair and insufficient funding in early 2011, the Listening Room was faced with a huge decision. After much deliberation and consultation with the Board of Directors, local business persons, and supporters of the concert series, the Listening Room decided to push forward into a new chapter at a vacant building at the heart of downtown Hastings, formerly known as the Sitel Telecommunications Building. All aspects of fundraising, renovation, and expansion of its mission aside, the Listening Room concert series was ready to have a permanent home.In March, 2013 construction began on The Lark, the permanent home for The Listening Room. The first show took place In January 2014.
Since 2014 The Lark has hosted over 200 performances, many community events, and dozens of romantic wedding ceremonies, delivering a lifetime of experiences.
The Lark & The Listening Room is supported by many sponsors, donors and patrons of the events held in the venue. To find out how you can help our non-profit venue, go to our donate page.
The Listening Room Concert Series is a 501(c)3 non-profit and its board of directors is the governing body for our building, The Lark.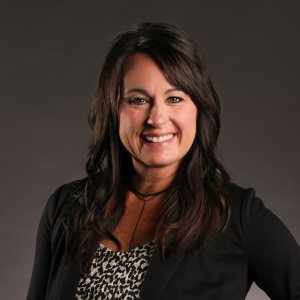 Executive Director
Cara Kimberly
Hello! Thank you for your interest in our organization and venue. I accepted the role as Executive Director in July of 2021. I have many years of experience involving art programs, fundraising, and event planning.
One of my main goals coming into this position is to make the community more aware of The Lark & The Listening Room in hopes that it is more readily used. I plan to implement and offer more events and art programing in our area.
I am very eager to help bring your event to life or to meet you at one of our upcoming events!
Dave Rippe - President
Matt Fong - Vice President
Scott Kvols - Treasurer
Heather Witte - Secretary
Craig Dewalt
Bruce Batterson
Hannah Jensen-Heitmann
Bruce Cutright
Andy Springer
Molly Johnsen
Pierce Fiala